Meet Our Team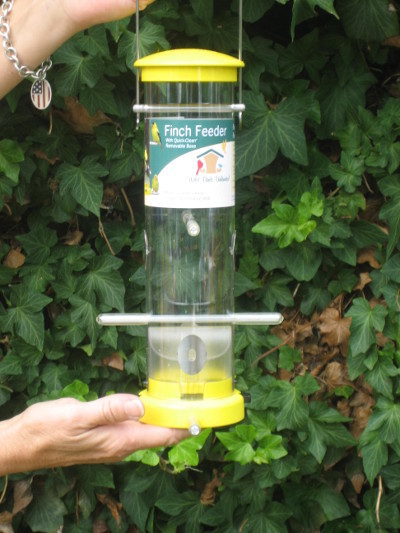 Kathi
I love the finch feeder! The brilliant yellow and shiny black of the male goldfinches in the summer months are such a breathtaking sight. I could spend hours sitting on the porch watching as 6 or 7 at a time, both male and female, come to the feeder, sometimes sharing and other times chasing one another away. Their bounding up-and-down flight is a sight to see! And this feeder is so easy to both fill and clean!

Susan's favorite feeder.
My favorite bird is the hummingbird.

They are amazing, beautiful little birds who always make me smile.
The High Perch Hummingbird feeder is perfect for my hummingbirds. They enjoy a clean feeder with fresh nectar. This feeder is so easy to clean ... by hand or it can be popped into the dishwasher. The built-in ant moat keeps the ants away from their nectar - the birds LOVE that!
I believe the thing my hummingbirds love the most is the high perch. Instead of taking a quick drink and zipping away, they hangout. I love all the extra time I have watching these beautiful little wonders.
Leigh M.
Favorite Feeder: Hopper Feeder
My favorite feeder is the EcoTough Hopper Feeder. It's so easy to fill and it holds enough seed to last a week or two between fillings. And, it's easy to see the seed level!
A variety of birds visit this feeder, both clinging and non-clinging birds. Plus, it's very durable and easy to clean. It's a win-win for both the birds and me!
Joanne of Warminster
Favorite Product - Seed Characters... because they are just so much fun and attract a wide variety of birds. They also make great gift ideas for your birding friends.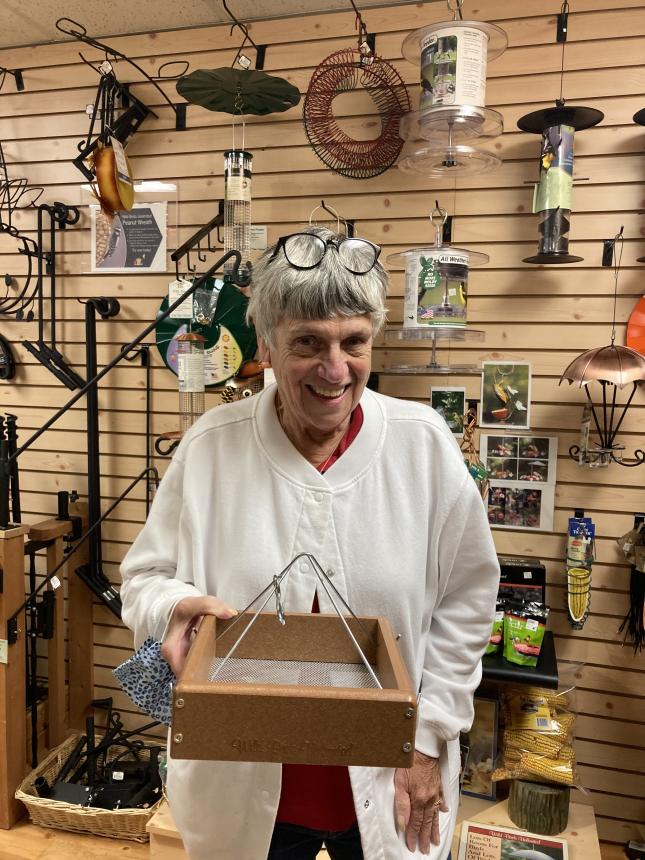 Joy of Doylestown loves the EcoTough flat tray feeder
I can put a huge variety of foods on this tray. It's easy to clean and very durable. It attracts both ground as well as tree feeding birds that are easy to see whether I'm sitting on the patio or checking out the action from my kitchen window.
Steven S.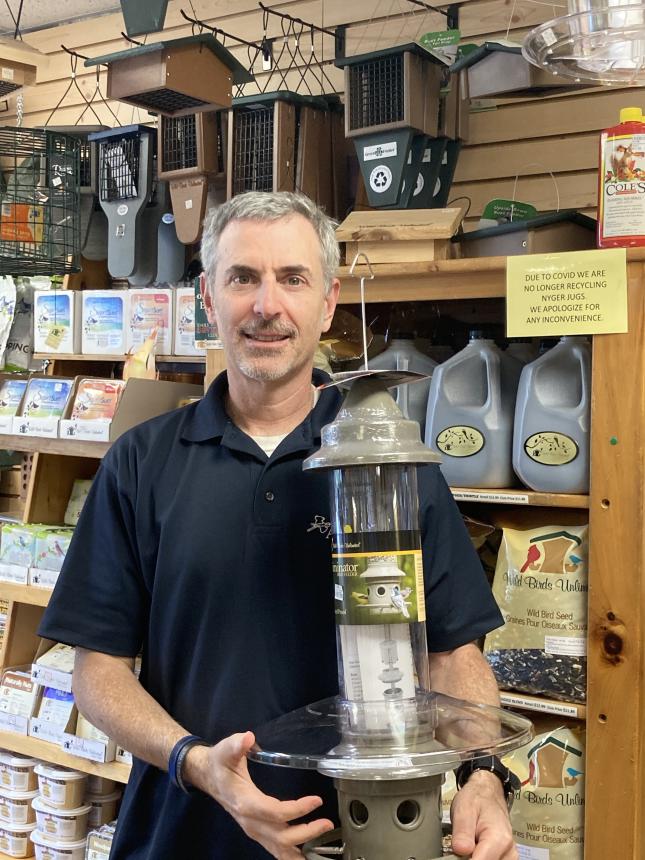 Steven's favorite feeder is the Eliminator
I love watching the squirrels try to access the food. It is just hilarious to watch them try. With the weighted
adjustable perch ring it is impossible. And there is a lifetime warranty against squirrel damage!

Ellen enjoys the Modern Rustic Tail Prop Suet Feeder

-she enjoys using suet feeders year round!

Steph W. enjoys the all of the educational materials

offered at WBU including the books and pocket/field guides.