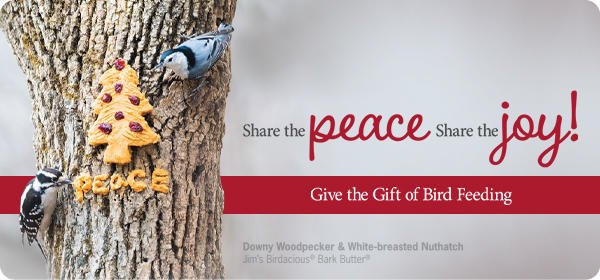 Give the Gift of Bird Feeding
Bird feeding is a peaceful hobby, providing a feeling of calm every time you glance out the window to see what's happening at the feeders. Share this gift of peace - and of joy - with those you care about the most this holiday season. When you give the gift of bird feeding, you give a connection with nature.
Stop by and let us help you find the perfect gift we are FULLY stocked ... or purchase a gift card and receive a complimentary $5 gift card for every $50 in gift cards purchased. *while supplies last
Looking for ways to save this Holiday Season. Start by joining our Daily Savings Club to save 15% on Bird Food year round. Earn a $10 Bird Bucks Reward Coupon every time you spend $200. Pay by cash or check and save and additional 2% ... the savings do add up!
Visit our website for curbside pickup or free delivery over $75. Local delivery also available on orders over $75. Just call us at 215-794-3888 or email [email protected]
Wishing you a wonderful Holiday Season. Thank you for supporting our local small business.
Our Holiday Hours are: Christmas Eve 10-3, Closed Christmas Day and the day after 12/26. New Year's Eve 10-3(or later depending on business). Closed New Year's Day.
---